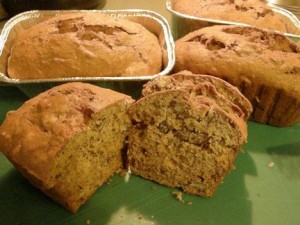 Easy Banana Bread Recipe - Banana bread is a delicious sweet, cake-like bread which contains mashed bananas.
Banana bread is a quick bread which typically uses baking soda as the leavening agent instead of yeast. Rather than dough, the bread is baked from thick batter, which does not require kneading. Banana bread is usually baked in a rectangular loaf pan.
There are many delicious healthy banana bread recipes. The recipees  are  flexible, optionally sugar-free and dairy-free,ans some of them can be embellished with chocolate, nuts, and fruit. A great way to use your over-ripe bananas!
Any favorite banana bread recipe can be made super fast by using a food processor for all the liquid components and substituting Canola oil for butter. Mix all of the dry stuff in a bowl.
Put the bananas in the processor and blitz them. Add the eggs, oil and any other liquids and blitz again. Mix the wet and dry. Mashing the bananas by hand doesn't really seem to have much of an effect on the outcome in my experience.