Weight Watchers Recipe: Excellent Cabbage Soup
What is one of the most well known, yummy and healthy diet recipes on the planet? The answer: cabbage soup, of course!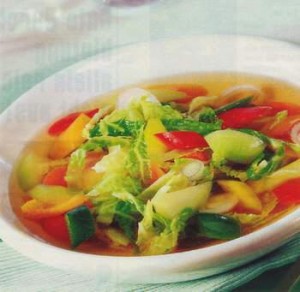 Feel free to have fun with the recipe and make it your own. Try different vegetables and enjoy it!
Servings: 8

Calories: 20

Fat: .2


WW Points: 0 Weight Watcher Points
Ingredients
3 cups fat free broth (beef, chicken or vegetable)
2 garlic cloves, diced
1 tablespoon tomato paste
2 cups chopped cabbage
1/2 yellow onion
1/2 cup chopped carrots
1/2 cup green beans
1/2 cup chopped zucchini
1/2 teaspoon basil
1/2 teaspoon oregano
salt & pepper - seasoning to your preference
Instructions
1. In a large sized cooking pan sprayed with no-stick spray, saute carrot, onion and garlic over low heat until softened. Typically this takes around 4-5 minutes.
2. Next, mix in the broth, tomato paste, basil, cabbage, oregano, green beans, and salt & pepper (your preference).
3. The next step is to lower the heat and barely simmer for a about 12 minutes until all of the veggies are soft.
4. Lastly, mix in the zucchini and heat for a few minutes minutes. Serve this dish hot/warm.
Serve and Enjoy!