Weight Watcher: Cranberry Orange Muffins

Serves:12 muffins
Calories/serving ( muffin): 236
WW POINTS per muffin: 6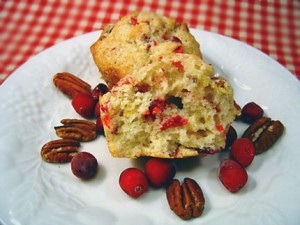 Fat: 13.1g
Fiber 1.5g
2 cups flour
1 cup fresh cranberries, chopped
2 teaspoons orange zest
1/2 cup orange juice
3/4 cup sugar
1/2 teaspoon salt
2 teaspoons baking powder
2 large eggs
1/2 cup vegetable oil
1/2 cup nuts, chopped
1. Preheat the oven to 400 degrees F.
2. Grease a 12-cup muffin pan.
3. In a bowl, stir together the cranberries, orange peel and 1/4 cup of the sugar.
4. In a larger bowl, sift together the flour, salt, baking powder, and the rest of the sugar.
5. Add the orange juice, vegetable oil and eggs all at once to the flour mixture and stir until moistened.
6. Fold in the sugared cranberries and chopped nuts.
7. Pour the batter into the muffin pan, evenly dividing it between the cups.
8. Bake at 400 degrees F for about 20-25 minutes (or until golden brown).