Weight Watchers Recipes: Wine-poached apricots
SERVES 4
CALORIES/SERVING: 75
WW POINTS PER SERVING: 1
PREPARATION TIMES: 5 MINUTES
COOKING TIME: 10-15 MINUTES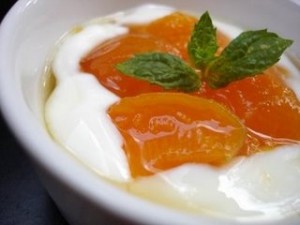 8 fresh apricots
300ml (1/2 pint) white wine
225g (8oz) low-fat natural yogurt
mint leaves to decorate
icing sugar for dusting
Steps

1 Using a small knife, cut the apricots in half, remove the centre stones and discard.
2 Place the apricots in a small saucepan and add the white wine. Place over a low heat and gently poach for 10-15 minutes until soft. Allow to cool.
3 Take four dessert glasses and spoon the yogurt in the bottom of each glass. Using a slotted spoon, remove the apricots from the pan and arrange on top of the yogurt. Decorate with mint leaves. Just before serving, dust with a little icing sugar.
Serve and enjoy!