Weight Watchers Vegetable Chowder recipe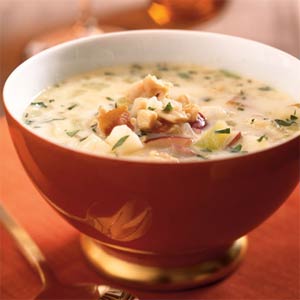 Servings: 8
Calories: 205
Fat: 12
WW Points: 4 weight watcher points
Ingredients
1.5 cups potatoes cubed and dice
2 cups onions cut and chopped
.5 cup green beans, cut into 1 inch pieces
.5 cup red bell pepper
2 celery sticks, diced
1 cup carrots peeled
1 cup zucchini
.5 cup green peas, fresh or frozen
1 tablespoon butter
2 cups of dairy milk
3 cups water or vegetable stock
1 cup cheddar cheese, cut finely / shredded
2 ounces cream cheese
1 tablespoon canola oil or similar
1 bay leaf
1.5 teaspoons salt sodium
.5 teaspoon ground pepper
.5 teaspoon dried thyme
2 tablespoons fresh parsley, chopped
Steps:
1. In a large sized pot on medium heat, heat the onion in the butter and oil for about around 3-4 min.
2. Add the celery, cover and cook, stirring now and then, until soft.
3. Add the potatoes, carrots, water or stock, bay leaf, thyme, salt and pepper; heat until beginning to boil, then reduce the heat, cover and simmer for 5 minutes (until veggies are all soft).
4. Take out about 1.5 cups of the cooked vegetables and set aside in a blender or food processor - best if you use a slot spoon.
5. Add in the bell peppers, green beans and zucchini to the cooking pot and heat for about 5 minutes (until the green beans are softened).
6. Stir in the peas and parsley, simmer for about 2 additional minutes, then take it off the burner.
7. Remove and throw away the bay leaf.
8. Process the previously removed vegetables with milk and cheeses to make a creamy sauce.
9. Stir the sauce into the mix and reheat.
Serve and enjoy!