Weight Watchers Appetizer Platter
Serves: 8
Calories/serving: 236
WW points per serving: 5
Fat: 11.7g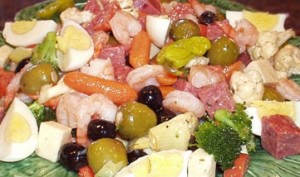 Fibre: 5.4g fiber
3/4 lb cooked shrimp, peeled but with tails left on
1 head fresh cauliflower and 1 head fresh broccoli, washed and cut into bite-size pieces
2 (10 ounce) cans button mushrooms, drained
1 pint grape tomato or cherry tomatoes, washed
1 cup pitted Kalamata olives
2 cups baby carrots, washed and scraped
1/2 small red onion, sliced
4 hard-boiled eggs, peeled and halved
1 (8 ounce) bottle Italian salad dressing
freshly ground black pepper, to taste
1. The night before serving, place the cauliflower pieces, mushrooms, tomatoes, carrots, onions and olives (if using) in a large bowl.
2. Pour the dressing bottle over the vegetables and mix well.
3. Tightly cover and refrigerate overnight.
4. In the morning, add the cooked shrimp to the vegetable mixture. Combine gently but thoroughly; keep covered and refrigerated until ready to serve.
5. Just before serving, drain the shrimp/vegetable mixture well and arrange attractively on a platter.
6. Arrange the hard boiled egg halves around the edge of the platter, grind some black pepper over and serve.