Weight Watcher Beef and Potato Goulash
SERVES: 4
Calories/serving: 291
WW points per serving: 6
Fat: 5.9
PREPARATION TIME: 15 MINUTES
COOKING TIME 1 HOUR: 30 MINUTES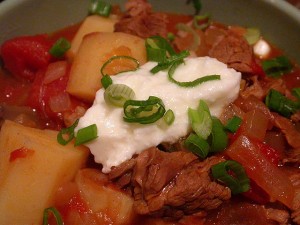 2    medium onions, diced
2 garlic cloves, crushed
450g (1 lb) lean beefsteak, diced
1    tbsp plain flour
2    tsps paprika
1.2 litres (2 pints) meat stock
2 tbsps tomato puree
2 bay leaves
450g (1 Ib) small  potatoes
2 celery sticks, chopped
1    red pepper, seeded and diced
salt and freshly ground black pepper
2    tbsps chopped fresh parsley
yogurt to serve
1    Preheat a non-stick frying pan or wok, add the onions and garlic and dry-fry for 2-3 minutes until soft.
2    Add the beef, season with salt and freshly ground black pepper, and continue to cook over a high heat until well sealed.
3    Sprinkle the flour and paprika over and 'cook out' for 1 minute.
4    Gradually stir in the stock. Add the tomato puree and bay leaves, cover, and simmer gently for 1 hour or until the meat is tender.
5    Add the potatoes, celery and red pepper and cook for a further 25 minutes.
6    Sprinkle with the chopped fresh parsley and drizzle the yogurt on top before serving.